Environmental
Peapack-Gladstone Bank is committed to being an environmentally conscious corporation. Environmental impact is considered in administering projects, products, and facilities.
We are focused on REDUCING our environmental footprint through a hybrid work environment, minimizing business travel and leveraging digital solutions, REMOVING paper from our daily routines, and RECYCLING hardware when possible.
Social
We are committed to expanding our role as an employer that champions diversity, equity and inclusion in our workplace environment.
Our strategy focuses on achieving hiring levels that are representative and in line with the communities in which we serve, as well as improving diversity representation in our senior roles.
Governance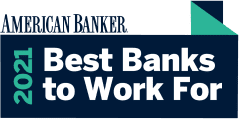 Named a "Best Bank to Work For" by American Banker for 2018, 2019, 2020 and 2021.